Alamo Car Rental Insiders
If you're planning a family vacation, you want to make the most of it. But seeing more can cost more too—and Alamo wanted to be the solution.
Our message was simple: when you become an Alamo Insider, you save more on your car rental, which means you can see more on your vacation. We brought this message to life in all touchpoints using our Alamo characters, who were seeing more across the nation, all because they saved more by choosing Alamo.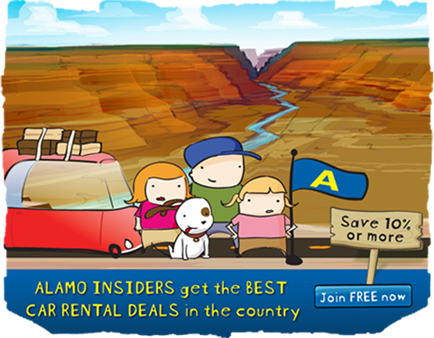 Challenge
Develop a digital campaign for YouTube and Frommer's that encouraged people to become Alamo Insiders—all while using Alamo's whimsical characters in ways they've never been used before.

Insights
With the growth of discount travel sites, Moms were becoming increasingly price-conscious when shopping for vacations
More and more often, moms were browsing social channels like YouTube to find ideas for their trips

Strategy
Engage users with rich media banners, interstitial ads, an online game, an online video and a page sponsorship.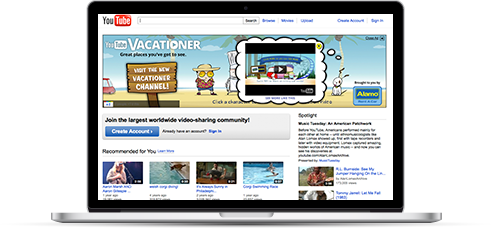 YouTube Integration
We developed a YouTube masthead that allowed users to interact with our lovable Alamo characters and discover their favorite destinations. Click throughs led to YouTube's new Vacationer Channel.
Online Game
We had complete share of voice for the channel, and we created engagement with our online game, which put users in the driver's seat with only thirty seconds to collect as many travel and souvenir related items as possible.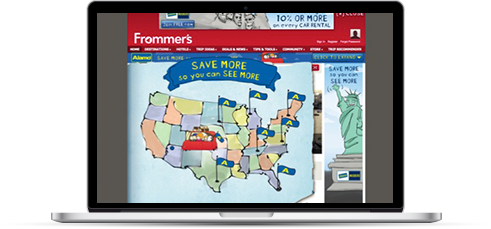 Frommers.com Takeover
Our whimsical characters took over Frommers.com for the height of vacation planning season with ROS banners, page takeovers, interstitial and rich media, and a sponsorship of the "100 Best Places to Take Your Kids" page.
Video
We also created a video for both Frommer's and YouTube that followed a family as they road tripped across America, discovering that with Alamo, everything comes to life!