Enterprise CarShare
Say the name Enterprise and the words 'solid, trustworthy and reputable' come to mind. But the names of Enterprise's three car sharing companies? Well, they just didn't mean much to consumers.
So we combined the companies into a single brand—one with a trusted name and the giddyap to help you live life at a moment's notice.
We introduced the world to Enterprise CarShare.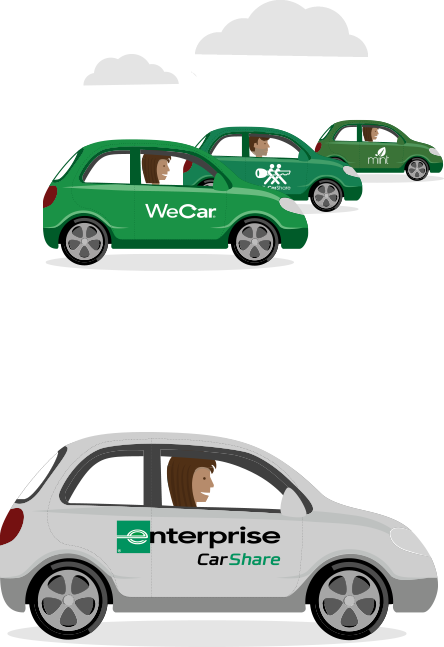 Challenge
Combine Enterprise's three car sharing brands into one — Enterprise CarShare. Educate new members on the benefits of car sharing and why Enterprise CarShare can deliver those benefits better than anyone else. Assure current members that they would continue to receive all the benefits of car sharing they've come to know and expect.

Insights
To set itself apart from other car sharing companies, Enterprise would need to not only provide a larger and better offering of vehicles equipped with the latest technology at a competitive price, but ensure that their existing and potential customers believed this positioning to be true
Car sharing reservations are often made on an impulse and on-the-go

Strategy
Create a brand image and voice that positioned Enterprise CarShare as a service that gives people the power of mobility. Convey that the brand is backed by the most resourceful rental company, giving you more options and opportunities. Build a website with a seamless user experience and optimized mobile capabilities so that members could make reservations on-the-go. And do it all while staying consistent with the Enterprise brand...

Branding
We created a logo, advertising and many other elements to launch the brand.
Website
We built the web site on a PHP platform with SilverStripe CMS for ease of updating. It not only provides service info, but its data-heavy back end also gives users a seamless experience.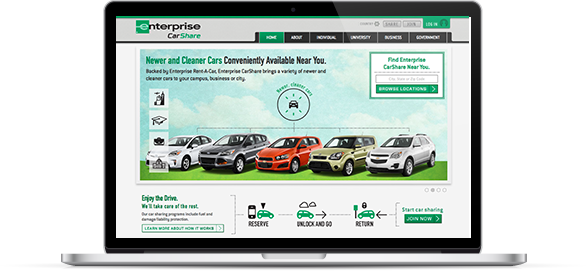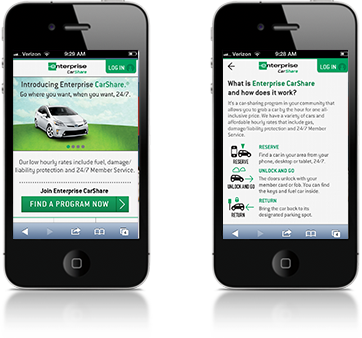 Mobile Site
Because car sharing is all about being on-the-go, we optimized the site for mobile.